Submitted by

admin

on Mon, 2016-12-05 13:14
Gursobha Singh, the 18-year old equestrian prodigy from Yadavindra Public School, is all set to step into adulthood with his eyes firmly set on the Olympic rings. The proud YPS student has been making headlines for quite a while now as the upcoming and most promising self-made Indian sports champion. The latest coverage by Times of India is nothing less than an inspiring story to read. Here it goes.
Think of a self-made Indian sports champion, and you will have the same name popping up 99/100 times. Abhinav Bindra. Interestingly, another teenager from Bindra's hometown here is following in his footsteps, but on a horse's back. There's no need of practised lines to introduce Gursobha Singh, the 18-year-old equestrian prodigy from Mohali, who has now stepped into adulthood with his eyes firmly set on the five Olympic rings. Equestrian is not a sport Indians readily relate to and is attributed mostly to sportspersons hailing from the army or police. But that wasn't Gursobha's source of inspiration when he began showjumping at the age of seven - it was his father Kamalbir Singh Dhindsa.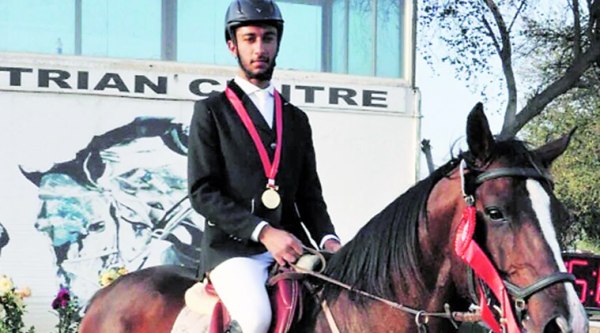 Kamalbir moved to the US in 1987 for higher studies and fell in love with horse riding, learning the art at the Heritage Farms in Massachusetts. And considering Kamalbir's inclination towards art, he also trained to paint during his 19-year stay in the US. The riding DNA, which requires an artistic touch, was then in place for Gursobha. Her mother's background took care of the other aspect - the athleticism. His mother, Navjot Kaur, has represented India in basketball and is now thoroughly involved in ensuring that her son remains fit as a fiddle to go the distance. "You get the best of both the worlds," Gursobha put the legacy precisely in words. And then added a condition: "Of course, if you know how to cash on it."
That's where comparisons between Gursobha and Abhinav can be drawn. Upon return from the US, Gursobha's father set up his own stud farm and an equestrian facility at ancestral village Makkran in Mohali district, similar to how Bindra self-trained at his own shooting range in Zirakpur before going on to win gold at the 2008 Beijing Olympics. The comparison may be in its infancy yet, but the signs are growing encouraging with every passing year. "He first rode a horse when he was about seven," Gursobha's mother recalled. "Once he had his initial training, he competed regularly and challenged riders double his age."
Most of the times, a young starter struggles to balance between sports and studies. But the Yadavindra Public School alumni excelled both on and off the field. "He is a law student now and has always been exceptional in studies," the mother said. Gursobha's latest claim to fame, besides over 100 medals he has won as a teenager, was winning three gold and two silver medals at the recently concluded Maharaja Ranjit Singh Punjab Horse Show. The medal-winning spree in Phillaur also helped him secure a place in the National Equestrian Championship, the only rider from Punjab to qualify so far this year. Gursobha's daily routine may sound like a grind but the sight of his horses and mares upon returning to his farm from college calms his nerves like nothing else. By 5 p.m. every day Gursobha returns home and then drives to the farm to train, where his father has already things in order for his son to get on with it. "My best friends are my horses and mares," he said before going on to introduce the nine of them.
"Among the Indian breeds, I have Jaimal, Muradbakhsh, Sahibjaan, Kesariya Balam and among thoroughbred there are Baawla, Baanka Rafik, Kafiyah, Connie Briton," Gursobha said with a beaming smile. Among the above, Gursobha has ridden Baawla for seven years now. "He was three when he came," he said. "Besides Connie Briton, we have imported two other from Europe, one is Yaara Vey and the other we haven't named yet." Also, Gursobha has one horse saddled in Holland, where he goes to train and compete once a year. Maintaining a stud farm, owning an equestrian training facility, taking care of 9-10 horses and travelling abroad to train can eat into your earnings in days, but the Dhindsa family is fortunate to manage it with their agricultural produce and some rental income.
SOURCE: Times of India